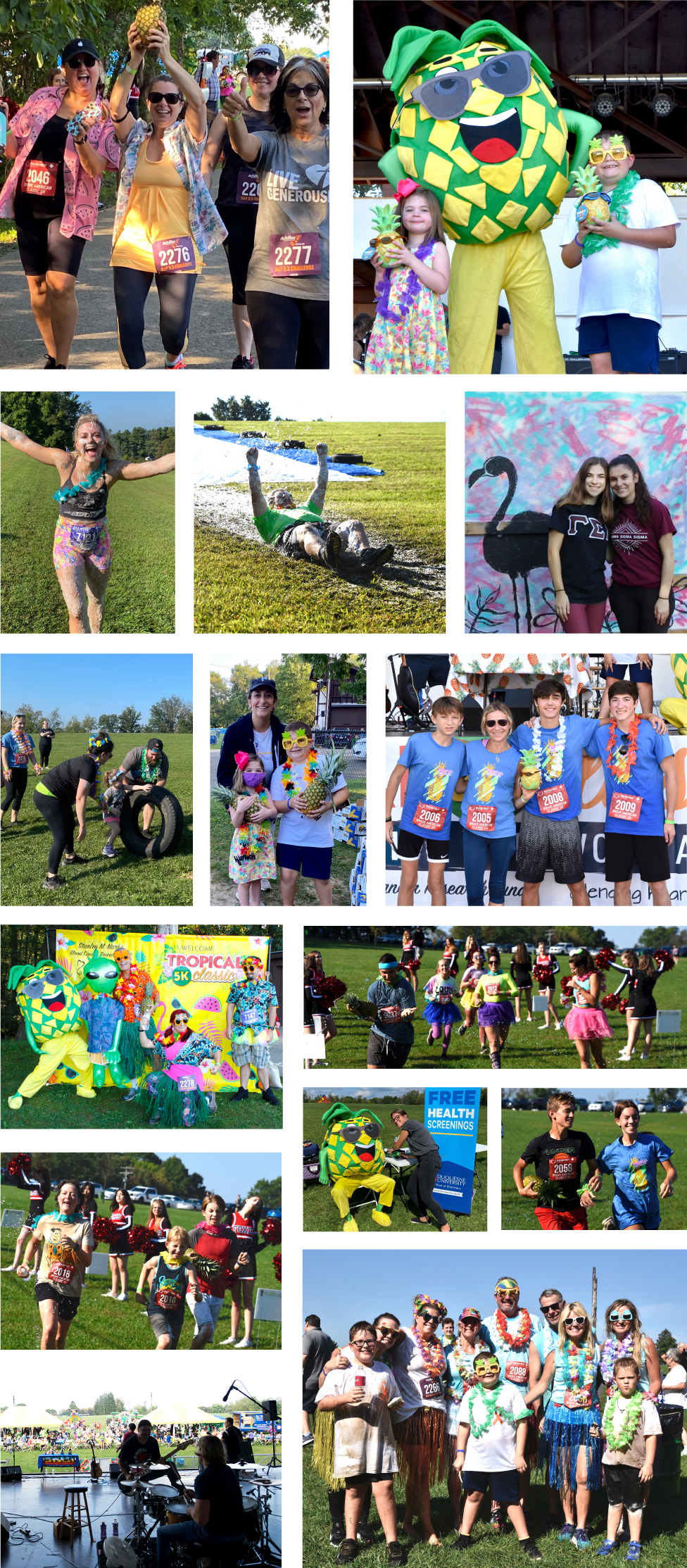 2021
Recap
The Pineapples were back in full force and with good weather, the Tropical 5K made winners of Lending Hearts and The Stanley Marks Blood Cancer Research Fund.
The Royal Family, Princess Nora Caporali and Prince Owen Miller presented teams with their pineapples and all the trophies to the winners. Our 'Gold Pineapple' award again went to 'Team Jen's Brigade', on the year of their 10-year remembrance. The team donation total was just over $4,500.
Our 2021 Race result winners are as follows:
The overall individual first place winner male Lewis Bacasa
The overall individual first place winner female Kayleigh Clark
1st Two Person Team The Bubbas
1st Three Person Team Metzger Mayhem
1st Four+ Person Team Pineapple Flyers
1st Five+ Person Team Coconut Crew
Best Costume Greg Is Not An Alien
Once again our sponsors came through in a big way, notably, Pittsburgh GYNOB, Merck, Sumitomo Chemical and Health Markets.
The music was provided by Mile Post 6 who rocked the LUAU. Athlinks handled the registration and the Middle Road Volunteer Fire Department made sure the Water Slide was fully operational. Runners at the starting gate and finish lines were greeted by the Fox Chapel High School Cheerleaders. Many thanks for all that energy and excitement they brought to the event.
We had Fun, We got Dirty and We raised money to Beat Cancer. But it's not too late to give! Donations are still being taken. We are only a couple thousand off our goal of $30,000 for this year. Please find it in your hearts to Give.
Our Volunteer Staff (Pineapple Patrol) not only kept the event on task but also did an amazing job on set-up and clean up. A special shout out to Duquesne University's Gamma Sigma Sigma.
Everyone knows, nothing goes anywhere without the effort of a tireless Committee. From the planning, setup, registration and clean up our Committee got it done.
Many, many thanks to all…but our work is not done beating cancer. 2022 is around the corner and as everyone knows …'Runners are Wanted'!