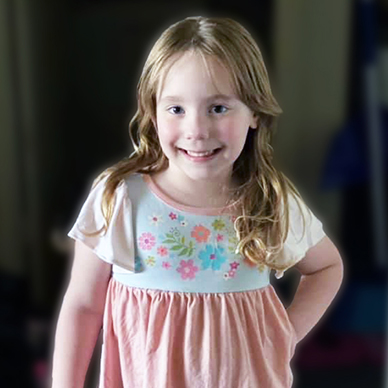 Meet Our

Tropical Princess
Kaylee is our sassy and energetic 6 year old who is part of her elementary school wrestling team and is also in dance.
In April of 2022 after a few days of limping but not knowing what happened we went to the doctors for X-rays and blood work and received the news no parent wants to hear, Kaylee had leukemia.
Thanks to the doctors at children's hospital who were on top of everything the moment she was diagnosed Kaylee started treatment right away and has handled it so well. We like to say her sass is her superpower.
Kaylee is the youngest of 3 kids and her older brother John and sister Ali are 2 of her biggest cheerleaders along with her parents, grandparents, aunt and all her teammates and classmates.

Meet Our

Tropical Prince
After running continuous fevers and complaining of severe leg pain and exhaustion Elliot was finally diagnosed with Acute Lymphoblastic Leukemia on April 15th 2021. He had a rocky beginning to his treatment plan with an immediate allergic reaction to one of the chemotherapy medications. Since then he has received numerous spinal taps and chemo treatments, which his body is responding to. He is currently in the maintenance phase of treatment and will continue oral chemotherapy at home along with scheduled outpatient chemo visits at the Children's Hospital of Pittsburgh. He is expected to ring the bell in June of 2023.
At just 6 years old Elliot is your typical goofy, fun-loving kid. He is the youngest of 3 boys and loves to be the center of attention. He loves telling corny jokes, playing with the dogs, jumping on the trampoline or swimming in the pool. Anyone who meets Elliot becomes an instant friend! His joy of life is contagious and you can't help but smile when you are around him. Throughout Elliot's treatment he has remained joyful, which has taught his family to appreciate each moment and appreciate life- however it may come. There is beauty in the struggle!