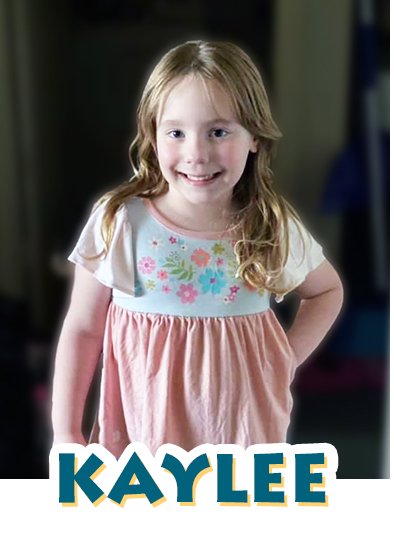 Meet Our

Tropical Princess
Kaylee is our sassy and energetic 6 year old who is part of her elementary school wrestling team and is also in dance.
In April of 2022 after a few days of limping but not knowing what happened we went to the doctors for X-rays and blood work and received the news no parent wants to hear, Kaylee had leukemia.
Thanks to the doctors at children's hospital who were on top of everything the moment she was diagnosed Kaylee started treatment right away and has handled it so well. We like to say her sass is her superpower.
Kaylee is the youngest of 3 kids and her older brother John and sister Ali are 2 of her biggest cheerleaders along with her parents, grandparents, aunt and all her teammates and classmates.

Meet Our

Tropical Prince
Bryson Gray (Captain Bryson) was an active, healthy 3-year-old last June 2022 when his mom noticed he was breathing heavily one evening. An x-ray revealed Bryson had a very large mass in his chest. Bloodwork confirmed that Bryson had T-Cell Acute Lymphoblastic Leukemia. He spent 30 days inpatient receiving front line chemotherapy right away to shrink the mass and begin to kill the cancer cells in his bone marrow. Bryson was able to come home and start outpatient treatments.
Bryson underwent many clinic appointments within his first year that included many chemotherapy shots in his leg muscles, 2 port placements and numerous lumbar punctures. He is now in long term maintenance and continues to go monthly for IV chemo and lumbar punctures. He will need to receive this treatment until October 2025.
Bryson is looking forward to being healthy enough to start Pre-K this fall and celebrating his 5th birthday! He had a great summer doing fun things with his family, especially his big brother Connor (5). He loves basketball and swimming! Bryson is a sweet, caring, and positive boy. His awesome attitude helps keep his mom and dad moving forward.