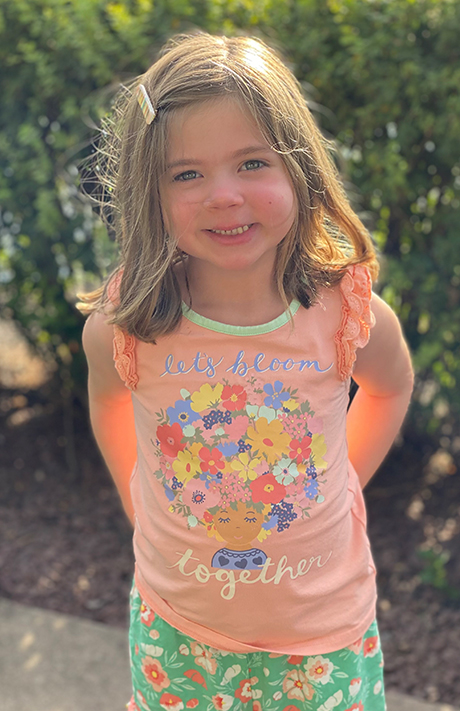 Meet Our

Tropical Princess
Our sweet and feisty, Nora, was diagnosed with Acute Lymphoblastic Leukemia (ALL), on August 20th, 2018. This is the day our lives were turned upside down and forever changed. Nora was about three weeks out from her second birthday and we were in utter shock that she would now be fighting an unfathomable battle. After all, this was Nora, our go hard, go fast, ray of sunshine. Never did we imagine anything could get her down. But yet, here we were.
In the days, weeks, months and years to come, Nora would undergo many spinal taps, bone marrow aspirates, countless Chemotherapy treatments, EKGs, home nursing, emergency room visits, clinic visits, and hospital stays-all parts of our family's new "normal." We have all taken this journey day by day, focusing on making our family the priority. Cancer would or will not define any of us, at any time.
We will continue to share Nora's story in hopes to raise awareness not only about Childhood Cancer but specifically blood cancer. Non-profit organizations such as Lending Hearts are so very important, as they help families to navigate the uncertainty lying ahead of them.
Nora is an amazing warrior and took the treatments as well as the side effects in stride. Nora finished her chemotherapy treatment in December of 2020 and rang the bell at Children's Hospital of Pittsburgh on January 14th, 2021. She has monthly appointments at the CHP Oncology Clinic for blood work and physicals. Our hearts are always grateful for her continued health as we continue on to close this journey. Nora is an inspiration to many and we look forward to all that the future holds for this bigger than life superhero.

Meet Our

Tropical Prince
After complaining of stomach and back pain for weeks, along with fatigue and loss of appetite, Owen Nicolas Miller was diagnosed with Acute Lymphoblastic Leukemia on February 5,2021. Owen has received outpatient and inpatient chemotherapy for the past 5 months at UPMC Children's Hospital of Pittsburgh. He is responding well to chemotherapy and we are excited to announce he will go into Maintenance on July 27, 2021 and continue to do outpatient chemo and oral chemo at home for the next two years. He is expected to go into remission and ring the bell in August 2023!
Owen is the middle child and adores his brothers, Max and Wyatt. Like a typical eight-year-old boy, he enjoys reading books, school, playing with his brothers and friends, riding bikes, climbing trees and swimming. He also loves Fortnite, Minecraft, Roblox, and doing movie impersonations. Anyone who has met Owen would describe him as sweet, funny, smart, outgoing, and having a huge heart. He is a strong boy mentally and physically! His parents Katie and Morgan, along with a tremendous support system of family, friends, and incredible community, know he will beat this ugly disease. We are all praying for him and standing next to him during his journey in beating cancer!